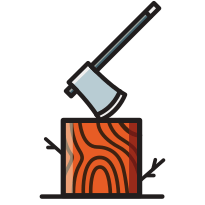 ---
Welp, it happened everyone. My beloved Wake Forest Demon Deacons dropped their first game of the College Baseball World Series last night in a heartbreaker, where they stranded something like 8 RISP ( a number that I won't look up because it would hurt me physically to do so.) They are currently 7-1 since the CBWS has started - the rules are genuinely confusing on first read but the cliff notes version of CBWS is that you can't lose 2 in a row in the early / middle-rounds and stay in.
The silver lining is that as a result of this loss the same two teams will play again tonight at 7pm EST. We'll get to watch two of the best pitchers in the country - and projected top 10 picks in the next MLB draft - go toe-to-toe.
LSU flamethrower Paul Skenes
, a Paul Bunyan-esque figure and Air Force transfer who threw a college baseball record 46 pitches over 100mph in his last start and Rhett "Hair Don't Care" Lowder, one of two pitchers ever to take home ACC pitcher of the year in back to back seasons and accomplished artist (or so commentators have told me many times, we don't yet have a "stats guy" on staff.)
Both teams also sport many of the best hitters in the country. Dylan Crews, will go top 2 in the MLB draft and has reached base safely in every game this year. That's a real statistic. That's some insane Dimaggio stuff. Brock Williken, Nicky Nukes Kurtz and Justin Johnson comprise the top OPS in the 3-4-5 lineup spots in the country. These are the only two teams that have been ranked number one all year. This is a clash of college baseball titans.
If you love sports, if you love competition, if you love excellence, if you're just looking for something to do with your Thursday night, if you just hit the wrong thing when setting up your "Stumble Upon" preferences - what a Google Chrome extension that is - no matter which of those buckets you find yourself in, get ready for an unforgettable matchup between two wonderful teams on College Baseball's biggest stage on ESPN this evening.
While I wish my Deacs had won last night and avoided the potential cardiac event that every pitch may induce tonight, I also feel lucky to have been around for the CBWS ride.
The Campfire Newsletter